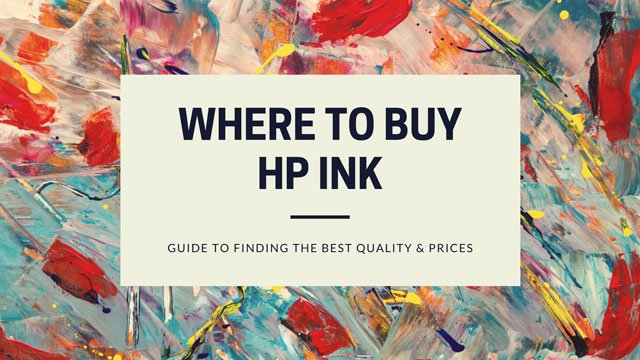 HP (Hewlett Packard) is the most popular manufacturer of inkjet printers worldwide. The company manufactures a variety of printers for home, office, and industrial use. If you have bought an HP printer for personal or professional use, you'd need to purchase replacement HP ink cartridges once you notice the signs that your first set of cartridges is running out of ink. The first set of cartridges is shipped with the printer.

This begs the question -
Where Can You Buy HP Ink Online?
You can purchase high-quality ink cartridges for various HP printers here at InkjetsClub. We provide HP ink cartridges for nearly all printers sold by HP.

We are the most trusted source of HP ink cartridges on the Internet today. Here are the reasons why thousands of people shop with us every day:
We help you save up to 30% on compatible ink cartridge purchases at InkjetsClub.
Our high-quality compatible HP inkjet printer cartridges are made in ISO-certified facilities, under the supervision of highly experienced engineers and technicians.
We follow all OEM specifications for manufacturing compatible HP inks that are just as good as their OEM counterparts but cost nearly 30% less.
We have a highly flexible cartridge return and exchange policy. Products can be returned within 60 days. Also, we provide 100% warranty on HP printer cartridges that we sell.
We offer free shipping on all HP ink cartridge orders worth over $40. You can expect cartridge delivery in about 4 days, depending upon your location.
In most cases, HP ink cartridges are shipped on the same day. Orders can be tracked through a tracking-link provided via email.
We guarantee that we offer high-quality HP printer ink at the lowest price. We are confident of the pricing and the quality of our product. This is why we offer a price match guarantee.
Our friendly customer support reps are available on phone, email and chat to help you 24 hours a day, 7 days a week.
Are you tired of paying for expensive branded HP ink cartridges? Are you searching for an affordable & no-risk purchase option wherein you can buy HP ink online without having to compromise on either quality or cost? Look no further than InkjetsClub if you are in need of HP ink cartridges.
How to Find the Right HP Ink Online?
You can use the 'Find Your Ink or Toner' utility on our home page. You can find the exact HP ink cartridge you need quickly by selecting:
The printer brand (HP)
Printer series
Printer model
In case you know about the HP ink cartridge you are specifically looking for (e.g. HP 61, HP 950, or HP 902), you can simply search for the cartridge at InkjetsClub.
Should You Buy Individual Cartridges or A Pack of HP Ink Cartridges?
Do you want to stock on HP ink cartridges, say, for the next quarter? You can purchase multi-packs at InkjetsClub and avail of discounts. You can save around 10% on your HP ink cartridge this way.

If you need to print thousands of pages – documents, images, or anything else - each month, it's a good idea to have some spare printer cartridges in stock.

While OEM ink cartridges generally have shelf life of around two years, compatible HP ink cartridges offered here on InkjetsClub have a shelf life of around three years.

We recommend that you learn how to properly care for HP ink cartridges in storage.
Are You Buying HP Ink Online For the First Time?
Don't fall for dirt cheap prices of ink cartridges available on the Internet.

Yes, original HP inks are expensive. Therefore, purchasing HP ink online from the manufacturer's website, Amazon, or similar e-commerce websites is not advisable.

Millions of printer users have already switched to compatible HP ink cartridges for the same reason.

But, do keep in mind that all compatible inks are not the same. There are several anonymous sellers on the web who sell extremely low-quality cartridges at throwaway prices.

Always shop with a trusted seller of HP ink such as InkjetsClub, like millions of others who choose us time and again for printer inkjet and toner cartridges month after month!