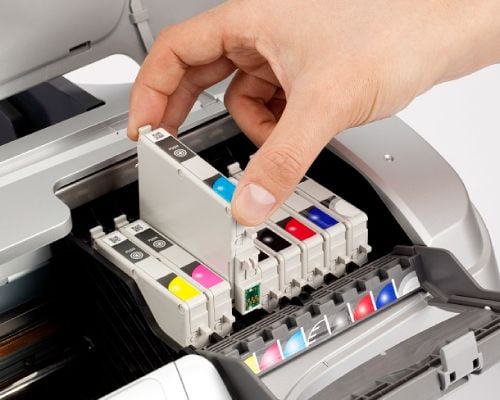 Are you wondering if you should buy a new inkjet cartridge now or a few weeks later? If a functional printer is an absolute necessity for work or academic studies, you should consider buying a new inkjet cartridge as soon as there are signs indicating your existing cartridge is running low on ink. Here in this post, we will discuss signs that indicate it's time to buy a new inkjet cartridge for your printer.
Sign #1 that You Need a New Inkjet Cartridge: Low Ink Warning
Many inkjet printers indicate 'low ink' on their display screens or the control panel. The indication may be in the form of a status indicator light or a series of beeps/flashing-lights that you can decipher by referring to the owner's manual.
Older printer models may display numeric codes. Take note of the code and cross-reference with the owner's manual; you can also run a quick online search to confirm if a numeric code indicates an empty or faulty ink cartridge that needs replacement.
Some printers include software programs that generate pop-up notifications on your computer screen when a printer cartridge is low on ink.
Keep in mind that a low-ink warning message does not necessarily mean an inkjet cartridge is completely empty. At times, such warnings are displayed even when the printer cartridge has 20-40% ink left. It sounds weird, but it is true.
So, it is a good idea to continue using an inkjet cartridge until there's some ink left. But, how do you get rid of the 'cartridge empty' alert that won't allow you to print?
Well, you can pull out and re-insert the inkjet cartridge or reset the printer to get rid of the 'cartridge empty' alert. In some cases, you can just hit the 'ignore' button and continue printing until you notice faded colors or smudges in prints.
If a printer is a part of your daily business operations, you might as well order a new inkjet cartridge even as you continue using an old one. In fact, businesses should consider buying inkjet cartridges in bulk, especially if they print heavily; most sellers offer up to 20% discounts on multi-packs. Here at InkjetsClub, for instance, you can save up to 82% on a pack of six Canon Canon PGI-250XL, CLI-251XL cartridges.
Sign #2 that You Need a New Inkjet Cartridge: Streaks on Printed Images and Documents
When a printer cartridge is low on ink, the print heads are not likely to be coated evenly with ink. This can result in streaks on printed pages. In most cases, these streaks are horizontal but there may be some vertical streaks as well.
Streaks, lines, smudges or missing colors in prints are a clear sign that it's time to buy a new inkjet cartridge for your printer.
Sign #3 that You Need a New Inkjet Cartridge: Faded Colors
One of the most common symptoms of an inkjet cartridge running low on ink is faded or faint color in image prints. You may notice a visible decrease in the intensity or brightness of a color.
At times, colors in image prints may change completely. For instance, a green-colored image may turn blue or a block of black text may turn gray. It usually happens when at least one of the color ink cartridges is empty.
Sign #4 that You Need a New Inkjet Cartridge: Some Printer Functions Disabled
It is one of the least known signs of an empty printer cartridge and it's quite frustrating.
In some all-in-one inkjet printers, features such as copy, scan, and fax may not work if the printer cartridge is too low on ink or completely empty. It usually happens when print-function is hardwired with other features. It is not like the printer manufacturing companies cannot fix this problem; it is an intentional flaw. Printer vendors want you to keep buying new inkjet cartridges. It's their business model.
At times, you may find it difficult to escape the 'cartridge empty' error message on the screen when all you need is to scan a document. In some printers, you may be able to override this 'intentional flaw' by using the Operating System's built-in application for scanning documents. Even if your printer is full of ink on all the cartridges but one, the printer functions can stop working as all the inks need to be at a standard level to print anything.
Sign #5 that You Need a New Inkjet Cartridge: Low Ink Level in 'Supply Status'
Modern-day printers with LCD and touchscreen navigation panels display ink levels.
You just need to navigate to the 'supply status' option. Depending upon the user interface of your printer, it may be displayed as a drop-down option or an icon.
As mentioned earlier, you can continue using an ink cartridge even when the 'supply status' indicates 'low ink' or cartridge empty.
Sign #6 that You Need a New Inkjet Cartridge: Printer Stops Printing
In case your printer uses a set of three, four or more ink cartridges, it may stop printing even if just one ink cartridge is empty. For instance, if the yellow ink cartridge is out, the printer may not even print black-and-white text.
Yes, it makes absolutely no sense but this is how some printer models are designed to work.
Some printers do use multiple inks for creating different shades of color but in many cases, companies just pull such tricks to make consumers buy replacement ink cartridges more often.
When you buy a new ink cartridge, make sure you order the one you actually need. You can use our ink finder utility to find the exact match for your printer model.
Sign #7 that You Need a New Inkjet Cartridge: You Have a 'Bad' Ink Cartridge
Faulty or damaged inkjet cartridges can have a detrimental effect on not just print quality but the printing device as well. If your printer software displays error messages or codes which state the following, you may need to buy a new inkjet cartridge:
The printer does not recognize the ink cartridge
The ink cartridge is not aligned correctly
Printer cartridge is defective
Such errors may also result from other, unrelated user mistakes. Therefore, it is a good idea to perform basic troubleshooting. Check for the basic user mistakes such as:
Printer door is open
The ink cartridge has not been inserted properly into its designated slot
Ink cartridge still has some packing tape on it
Using an old inkjet cartridge which is now clogged
The likelihood of having a defective cartridge is more if:
You sourced a remanufactured ink cartridge from a bad source
You did not buy a good quality generic printer cartridge
You refilled the ink cartridge yourself
You pulled out the printer cartridge and tried to repair it
At times, your printer lines may be clogged due to dried ink. It usually happens when a printer is left unused for a long time.
Can An Empty or Faulty Inkjet Cartridge Damage A Printer?
Yes, it is possible.
The print head is undoubtedly the most expensive component in a printing device and it may get damaged due to wear-and-tear if the inkjet cartridge is completely dry, very low on ink, clogged or damaged. In most cases, your printer will just stop printing when the ink cartridge is empty. But it does not always hold true for a clogged or damaged ink cartridge.
Final Words
When you shop for a new inkjet cartridge, make sure it is the right fit for your printer. Check the cartridge number before you place an order. It is a unique identifier for a printer cartridge.
You can save up to 20% on ink costs by simply switching from OEM (original equipment manufacturer) inks to compatible inks manufactured by reputed, third-party manufacturers. Here at InkjetsClub, we offer high-quality compatible inkjet cartridges for a variety of printer models. These ink cartridges are manufactured in ISO-certified facilities and backed by guarantees.
Lastly, do consider recycling old ink cartridges. Otherwise, used ink cartridges will just land in the trash and finally end up in the landfills. You can avail of a discount or contribute to a charity when you recycle old ink cartridges. It's a win-win for both you and the planet.