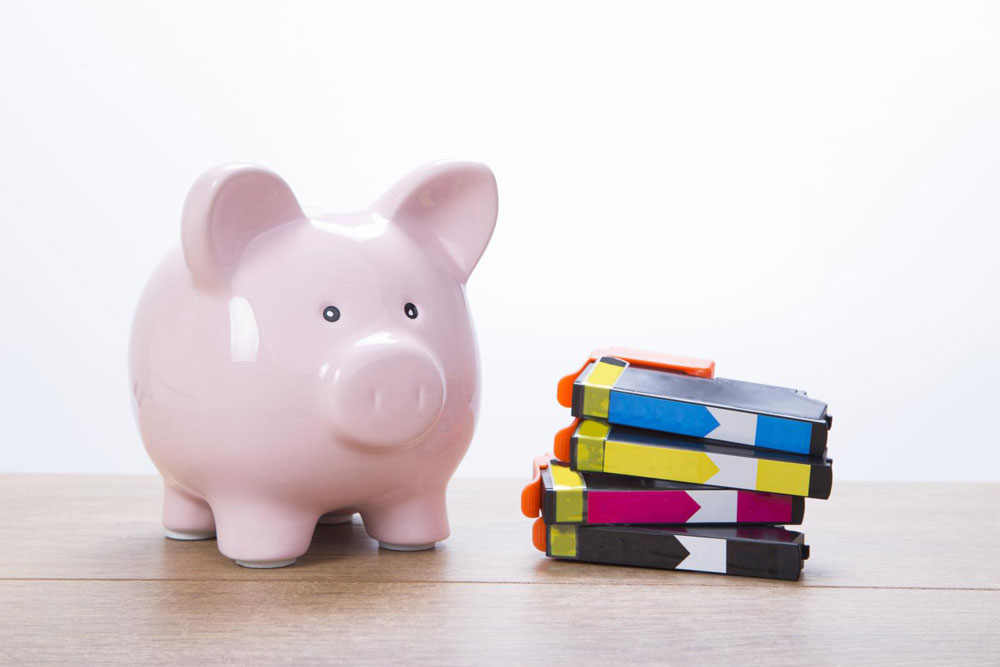 Buy Compatible Printer Ink and Toner Cartridges
The best way to save money on inkjet and toner cartridges is to buy compatible cartridges online. These non-OEM (Original Equipment Manufacturer) printer consumables are engineered to work with different types of printer models.
OEM printer inks and toners are more expensive because printer manufacturers offset low sticker prices of printers as well as marketing and R&D costs by selling printer consumables at a premium.
An increasingly large number of people now use non-OEM ink and toner cartridges to offset the higher ink costs set by OEM manufacturers. You can easily save up to 80% on most inkjet and toner cartridge replacement costs by purchasing compatible cartridges at InkjetsClub that meet OEM standards.
Buy Remanufactured Printer Ink and Toner Cartridges
Just like compatibles, remanufactured or recycled ink and toner cartridges too offer significant savings. Generally, these are OEM ink and toner cartridges carefully refilled and repaired to work just like brand new cartridges.
At InkjetsClub, remanufactured ink and toner cartridges are sourced from our ISO-9001 certified facility. Since we're fully confident of the quality, we provide guarantees on all remanufactured printer ink and toner cartridges we sell.
Do keep in mind that refilling ink cartridges on your own, although tempting, is not the best practice. You may end up damaging the print head with an incorrectly refilled cartridge.
Buy High-Yield (XL) Ink and Toner Cartridges
If you print frequently, consider buying high-yield cartridges. Compared to the standard or normal cartridges, their XL counterparts hold more ink or toner. The cost-per-print in the case of XL cartridges is significantly lower in comparison to the standard cartridges.
Recycle Used Ink Cartridges
You can recycle used ink cartridges in exchange for a discount coupon or store credits. You can even auction them on eBay.
By recycling used cartridges that would otherwise end up in landfills, you can help the environment as well.
Many office supplies stores have reward programs for printer ink cartridges. We at InkjetsClub also accept used ink cartridges for recycling for a credit on your next purchase of compatible or remanufactured ink and toners.
Buy Multi-packs of Ink and Toner Cartridges
Buying ink cartridges and toners in multi-packs or value-packs can save you between 10 to 20% in comparison to buying them individually. Just make sure you don't overstock on them. Match cartridge capacity to how much you really print to avoid having high-yield cartridges languish beyond their expiration dates.
Change the Printer Settings
You don't always need to print documents or images at a printer's maximum supported resolution. Most everyday printing jobs demand a much lower resolution.
Access your printer's settings in the Control Panel or the printer software. You need to find the ink-saver or toner-saver mode in the printer preferences. Printing in Draft or Economy Mode except on occasions when the highest quality output is needed, can help save a lot of ink or toner.
Use the Right Font
Not all fonts use the same amount of ink or toner. Arial, one of the most popular default fonts in word processors and web browsers uses approximately 27% more ink than Century Gothic or Calibri. Some fonts are more serious offenders than others when it comes to ink consumption.
Fonts that can help inkjet and toner cartridges last longer include the following:
Ryman Eco
Garamond
Ecofont Sans
Courier
Century Gothic
Brush Script
You can also reduce the font size and use bold text less frequently; both require greater amount of ink coverage.
Use Online Services for Printer-friendly Versions of Stories
Many web browser extensions and online services help strip needless banners, logos, etc. from web pages, leaving you with nothing but plain text. Manually reformatting stories each time you need to print a web page is cumbersome.
Keep Your Printer Turned On
Inkjet printers undergo a maintenance cycle each time they are turned on; a small amount of ink is used to clean the print heads. By leaving your inkjet printer on, except on weekends or during an extended holiday period, you can avoid triggering the maintenance cycle.
Modern-day inkjet printers consume very little power when not in use. Laser printers, however, consume relatively a lot more power when idle.
Upgrade Your Printer
Are you using a printer that's older than five years? It's probably time for an upgrade. Newer printer models that use high-yield (XL) ink cartridges and toners are more economical in terms of ink usage. The money spent on buying a new inkjet or laser printer will after a few cartridge replacements be equivalent to the money saved.
Restrict Color Printing
A page printed in color usually costs five to six times more than a page printed in black-and-white. Therefore, when you are printing emails, documents, web pages, PowerPoint handouts, etc. for reference, consider printing in black-and-white.
Several black-and-white print jobs use more than just black ink. The best way to shut off the color cartridges is to choose 'grayscale only' in the printer settings.
Do Not Take Low Ink Warnings Too Seriously
You don't always need to replace inkjet or toner cartridges right after the 'running low' message flashes on the screen. Such warnings do not necessarily imply that the ink cartridge or toner is going to be empty any second. With most printers, the indicator is likely to appear with 20-30% ink or toner left in the cartridge.
Don't rush to replace a cartridge until you notice that the output quality has degraded or if you have a large print job at hand.
Let Efficient Printers Handle Large Print Jobs
Expensive inkjet or laser printers, in general, can print a photo or document at a lesser cost. Therefore, if you have multiple printers in the office and need to print a large number of photos or graphics-rich documents in high definition, consider using a more efficient printer for the job.