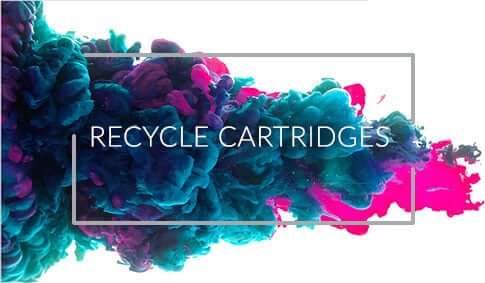 Recycle your ink cartridges at InkjetsClub & receive our $10 voucher.
It's In Our Nature to Care About the Environment. One More Step To Helping the World
InkjetsClub's easy-made recycling program allows you to get paid by returning your old used toners and inkjet cartridges.
Don't waste money holding on your used empty ink and toner cartridges any longer! Sell your surplus printer ink and toner cartridges to InkjetsClub and get instant store credit to buy any ink or toner cartridge! InkjetsClub.com buys excess printer cartridges from sellers all over the world. Be our next customer and fill out the form below to receive a free UPS shipping label to return your used, empty or unwanted toners or inkjet cartridges*.
Did you upgrade to a new printer and now have sitting obsolete printer ink or even printer ink and toner cartridges that are expired? We'll buy the ink and toner cartridges from you, provide you free shipping to make the return and provide you instant store credit towards your latest ink and toner needs from InkjetsClub.
You no longer need to go to the store to sell your inkjets or toners. Simply fill out the simple form below, and we will send you a paid return label to buy all your ink - no matter what make or model we'll pay you to take it off your hands! There are no commitments, no hassle, just peace of mind and instant store credit back for new sets of inkjets or toners from InkjetsClub.
We offer FREE SHIPPING! It's as simple as 1) 2) 3): put the paid UPS label on the box. We'll provide you with an instant store credit once the package is processed through our recycling facility.
Just email us the: Type, Brand, Model, and Quantity of each cartridge you'll be recycling to
Support@InkjetsClub.com & you'll instantly receive a $10.00 coupon.




Terms and Condition of InkjetsClub Printer Ink and Toner Cartridge Buyback Program:
Buyback program applied to all ink and toner cartridges. Customer must send a minimum of 20 ink and/or toner cartridges in one package at a time. The store credit must be used prior to sending more cartridges or toners back to this program. Users cannot use the program on a monthly basis without making a purchase with the in-store credit. Limited $10.00 per customer on a monthly basis.