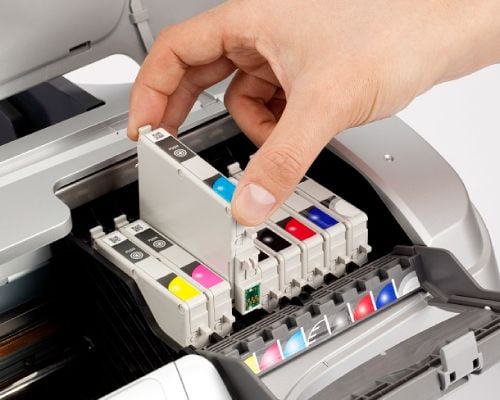 5 Best Tips on How to Care for Your Ink Cartridges and Save Money
Ink cartridges are some of the most expensive consumables in many homes and offices. There are tried-and-tested ways to save money on printer cartridges but you may end up spending more if ink cartridges have to be replaced more frequently due to avoidable damages. Faulty ink cartridges can also damage the printhead. Fortunately, it's not too difficult to inspect, handle, and install ink cartridges. Here in this post, we will discuss the top five tips on how to care for your ink cartridges:
Tip #1: How to Care for Your Ink Cartridges before Installation?
Installing an ink cartridge seems pretty straightforward; you just need to insert it into the designated slot on your inkjet printer. But, it's always a good idea to follow some standard guidelines before installing an ink cartridge.

Carefully inspect the inkjet cartridge for damages before you install it. Check if ink cartridge's clip or plastic pull tab (found in older models), is correctly secured. You may first need to remove a piece of plastic tape that covers the vent hole and clip.

Next, shake the inkjet cartridge well. This is done in order to prime the ink. Alternatively, you can gently tap the ink cartridge on a hard surface a few times.

Finally, inspect the gold contact chip on the ink cartridge; it's usually present on side of the cartridge. The printing device gathers data about current ink-levels from this electrical component. If you accidentally touch the gold contact chip or notice some dust, impurities or scratches on it, use a lint-free cloth to wipe it clean.
Tip #2: How to Care for Your Ink Cartridges during Installation?
Different inkjet printer models have different procedures for cartridge installation. So, make sure to reference the printer's instruction manual. If the manual isn't available, you can find a PDF version online. Alternatively, you can watch a cartridge installation video on YouTube; just run a search by your inkjet printer model.

The ink cartridge should fit in easily. Do not force its way in; you may end up damaging the contact point or worse, dislodge the printhead, another expensive printer consumable.

Remember to switch off the printer before you remove or install an ink cartridge. Use the power button on the printer to turn it off; it allows the printhead to return to a position where it is well protected against drying up.

If your printer does not read a newly installed ink cartridge, please refer to our 'troubleshooting printer cartridge' section for quick information on how to fix this issue.
Tip #3: How to Care for Your Ink Cartridge during Storage?
Not buying ink cartridges in bulk even when you print frequently is one of the common printer cartridge purchase mistakes many people make. Here at InkjetsClub, you can save up to 20% in replacement ink costs by purchasing a multi-pack. For instance, if you use 10 cartridges in a year, you can literally get 2 ink cartridges for free by placing an order for a pack of 10.

But, once you've got the extra cartridges, you should know the best way to store them. Here are some standard guidelines on how to store and protect your printer ink cartridge:
Keep spare ink cartridges in their airtight sealed packaging until you need them. If you remove a cartridge from its packaging and it's sitting idle for some time, the ink inside it may dry out, especially if the plastic tape covering the vent has also been removed prematurely.
Store ink cartridges in a vertical position with the nozzle facing upwards. When cartridges in storage are left on their sides, the ink inside them may shift to one side. This can affect the output quality when you install them on your printer.
Store ink cartridges in a dark place; do not leave them in a hot car or places exposed to extreme heat or cold.
If you need to store a partially used ink cartridge, make sure to cover its nozzle with polythene to create an airtight space. Apply duct tape around the polythene cover, if necessary.
Ink cartridges cannot be stored for an indefinite timeframe. Take note of the expiry date; it's usually printed on the label or mentioned in the product description online.
Tip #4: How to Care for Your Ink Cartridges when they are In Use?
Make sure to print at least 1-2 pages each week/fortnight to keep the ink flowing. If an inkjet printer is left dormant for an extended period, ink cartridges may dry up and nozzles can clog.

Do not pull out the ink cartridge as soon as you get the first 'cartridge empty' warning on your computer screen. Chances are that there's 30-50% ink still left in the cartridge. Therefore, keep printing until you notice banded text or blurred line in prints.

If your printer uses a multi-color individual ink system, make sure to keep a full set of ink cartridges in your inkjet printer even if you aren't always printing in color. The built-in printhead can introduce air due to open spaces, ultimately drying out the cartridges.
Tip #5: What to Do With Used Ink Cartridges?
When you notice the signs that it's time to purchase a new ink cartridge, you may feel tempted to refill an ink cartridge at home. After all, there are tons of DIY articles and videos on the web that claim to demonstrate the process from start to end.

The reality is that the majority of consumers end up doing it wrong. They either use inferior inks leading to poor quality output or cause damage to the cartridge or printhead.

Instead of refilling old ink cartridges or worse, throwing them away, it's better you recycle them and get a discount at InkjetsClub on your next purchase. When you just discard used printer cartridges, they ultimately end up in our planet's landfills. Thus, you can help the environment by choosing to recycle them.
Final Words
Mishandling ink cartridges can cost you more money than the cost of cartridges. You may end up damaging the printhead or fail to print documents critical for a client meeting on time. The guidelines described above are easy to follow and should help you save time, money, and effort in the long run.