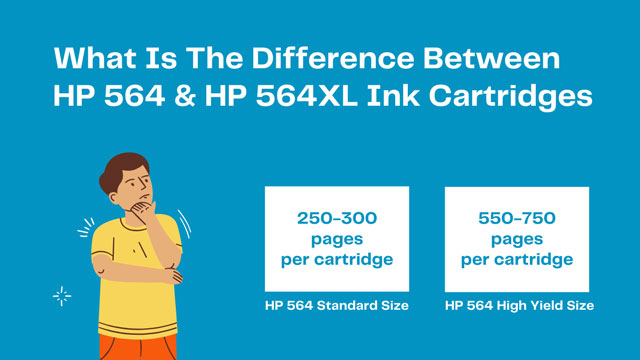 HP 564 and 564XL ink cartridges are two types of cartridges uniquely designed to work with dozens of HP PhotoSmart and DeskJet series printers.

So, whether you have an older model such as HP Deskjet 3070a or a newer model like HP PhotoSmart eStation All-in-One, you can buy either HP 564 or 564XL ink cartridges when your first set of cartridges run out of ink. In other words, these cartridges are interchangeable.

Both HP 564 and 564XL ink cartridges are available in 5 different colors:
Black
Photo black (some printers which use 564/5564xl may not use photo black)
Cyan
Magenta
Yellow
Your HP printer can use either of these two printer cartridge types. So, what is the difference between HP 564 and 564XL ink cartridges?
HP 564 Vs 564XL Ink: Understanding the Difference
Well, the suffix 'XL' in the name of a cartridge indicates that it's a high-yield cartridge. An XL cartridge offers a better yield, i.e. it prints more pages.

Thus, HP 564 is a standard-yield ink cartridge while HP 564XL is a high-yield ink cartridge for certain HP inkjet printers.

A high-capacity ink cartridge holds more ink than its 'standard' counterpart. Therefore, the former can print a higher number of pages.

While an HP 564 Black printer cartridge contains 7.5 mL of printer ink and can print about 250 pages, an HP 564XL Black printer cartridge contains 14 mL of printer ink and can print about 550 pages.
Do All HP 564 or HP 564XL Cartridges Contain the Same Amount of Ink?
Many people are confused whether an HP 564 Black and HP 564 Cyan ink cartridge would have the same yield. So naturally, they want to know if all HP 564 or HP 564XL cartridges contain the same amount of link. Well, no.

Although black ink cartridges hold more ink, they have a lower yield in comparison to color cartridges.

For a quick comparison, consider the following:
An HP 564 Cyan or Yellow cartridge has 3.5 mL of ink and it yields 300 pages.
An HP 564 Black cartridge has 7.5 mL of ink and it yields 250 pages.
An HP 564 Magenta cartridge has 4 mL of ink and it yields 300 pages.
HP 564 Vs 564XL Ink Cartridge: Which One Should You Buy?
If you don't want to buy replacement cartridges too often for your HP printer, consider buying a high-yield cartridge. An XL or high-capacity ink cartridge will last longer. This is important especially if you require a functional printer at all times for personal or professional use.

The cost of a high-yield cartridge is not always directly proportional to the amount of ink it holds. Often, high-yield cartridges are offered at a cost lower than the amount of money you'd pay to get the same yield with standard cartridges.

If you print rarely (say, a few pages each month), you may want to buy a standard ink cartridge instead.
Where Can You Find Low-Cost 564XL Cartridges?
OEM or original-brand HP ink cartridges are expensive. You can save around 30% on printing costs simply by switching to compatible HP 564XL cartridges for your HP printer.

You can read our post to learn more about the difference between OEM and compatible printer cartridges.

Depending on your current and future needs, you can buy -
With a value pack (multiple sets of ink cartridges), you can save approximately 5% more money on printer cartridge purchases.
Should You Refill An Old HP 564 or HP 564XL Cartridge?
You may like to think that refilling your HP ink cartridges at home is a good idea but it isn't.

Getting used HP printer ink cartridges refilled at a local store is also a bad idea.

When you refill a standard or high-capacity HP 564 cartridge at home or a local office supplies store, there is a chance that incorrect handling might lead to printer damage.

Needless to mention, the quality of ink available in local retail stores isn't as good as the company that sells OEM inks or reputable sellers who manufacture compatible cartridges in ISO-certified facilities and use high-quality ink formulations as per the OEM specifications.

Are you specifically looking for cheap printer ink for your HP printer?

Well, there are other, smarter ways to find low-cost printer ink.
What to Do With Empty HP 564 & HP 564XL Cartridges?
You can recycle your old HP ink cartridges and get a discount on your next purchase. This way, you will not only save money on your next purchase but also contribute towards protecting the environment.

Millions of used ink and toner cartridges end up in our planet's landfill every year where they would take hundreds of years to decompose completely. So, it is our shared responsibility to recycle used cartridges so that they can be refurbished and reused.

At InkjetsClub, you will get instant store credits each time you send us a used HP 564 & HP 564XL ink cartridge for recycling.

You will receive an instant $10 coupon when you email us the details of the used HP ink cartridge that you'd be recycling. We will also provide you a free UPS shipping label so that you don't have to spend a penny on shipping!

You will receive store credits as soon as the package is processed at our ink and toner cartridge recycling facility.