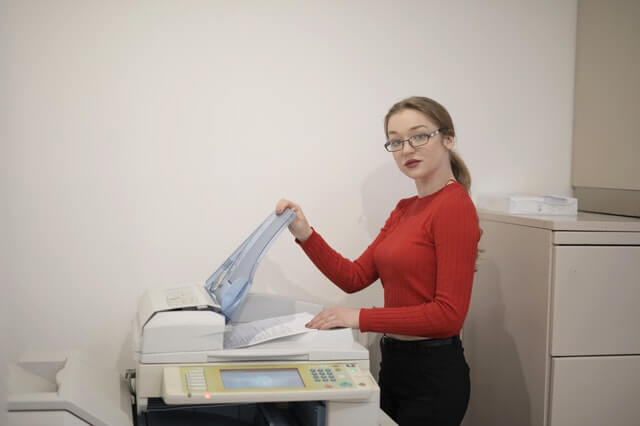 Printer manufacturing companies follow the typical 'razor and blade business model' in which one item (a printer) is sold at a low price to increase the sale of a complimentary item (replacement cartridge). Charging an arm and a leg for replacement printer cartridges is how printer manufacturers make the bulk of their profits.

So, even if you invest in a low-cost printer for professional use today, you may end up spending a lot more on buying 'expensive' replacement cartridges over the next one or two years.

Most people, who experience it first-hand and want to save on ongoing printing costs, either opt for compatible ink cartridges or have their empty ink cartridges refilled. Here in this post, we will shed light on why you should buy compatible ink cartridges instead of relying upon Costco ink refills.
Costco Ink Refills Are Susceptible to Leakage and Color Bleeding
An inkjet printer typically delivers about 5,000 dots per second onto the substrate through its microscopic nozzles. The print quality suffers if the ink used to refill a cartridge is not of quality comparable to OEM ink cartridges.

Many printer users, who take the Costco refill route to save on printing costs, end up with ink leakages and color bleeding in prints.

At times, ink leakages can even damage the print head, one of the most expensive inkjet printer consumables.

In case a refilled ink cartridge damages your printer, you may also incur out of pocket expenses on printer repairs. Manufacturers cannot stop you from using ink refills but product warranties do not cover damages caused by faulty consumables.
Ink Refills are not carried Out in ISO-certified Facilities
Inkjet cartridge refills at a Costco retail outlet or a local office supplies store are not carried out in ISO-certified facilities or as per OEM-specifications.

In most places where ink refills are carried out, the people handling used OEM cartridges are not technicians or engineers. This is the reason why a vast majority of people stop refilling ink cartridges once they're disappointed with results.

Compatible ink cartridges are designed to work just like original-brand ink cartridges. Reputed third-party sellers manufacture compatible printer cartridges in a controlled environment; the manufacturing is carried out by trained technicians and overseen by experienced engineers in ISO-certified facilities.

When compatible cartridges are made strictly according to the OEM specifications, you can be assured of the fact that there won't be any leakages or quality issues.

Keep in mind that all compatible ink cartridges are not the same. So, when you search for high-quality compatible inks for HP, Brother, Epson, or Canon printers, be sure to shop with a reliable seller.
Printer Errors Are Highly Likely If You Use Refilled Ink Cartridges
An inkjet printer rejecting or failing to recognize refilled inkjet cartridges is a common occurrence.

When such errors come around, you cannot simply close them. In most cases, you won't be able to use the printer. Your printer will refuse to print even if one of the color ink cartridges refilled at Costco is not recognized by your printer.

Such errors are more likely if
The ink is of poor quality
The magnetic chip on an empty cartridge has not been reset
A cartridge component gets damaged during refilling
There is ink leakage
You are far less likely to encounter such problems with compatible ink cartridges. It is also easier to troubleshoot and fix issues concerning compatible cartridges as they are engineered to work with specific printer models.

Printer manufactures do try their level best to discourage the use of low-cost compatible inks by pushing firmware updates from time to time but there are ways to fix such problems.

You can, for instance, turn off firmware updates for an Epson printer to continue using compatible inks without a hiccup.
You Can Recycle the Empties and Get a Discount off a Fresh Cartridge Purchase
If you have used OEM cartridges, it is advisable to have them recycled instead of getting them refilled at Costco or a local office supplies store. Here at InkjetsClub, we offer a 10% discount on your next purchase each time you recycle printer cartridges with us.
Final Words
High-quality compatible ink cartridges, backed by guarantees, are at least 20% cheaper than their OEM counterparts.

If you recycle used ink cartridges and buy compatible printer inks, you stand to save just around the same amount of money as you would with Costco ink refills. But with compatible ink cartridges, there are no risks involved.