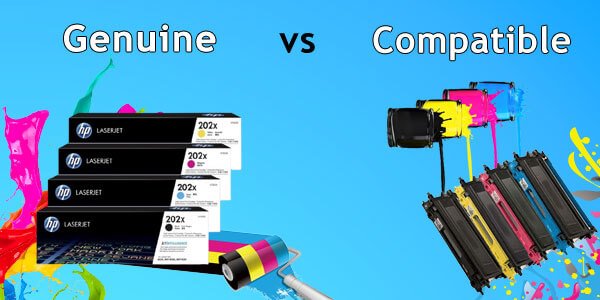 Compatible printer cartridges have been a popular and reliable option for millions of printer users worldwide. For many years now, people have been using compatible cartridges that offer the same quality as more expensive Original Equipment Manufacturer (OEM) cartridges.

However, many people are still confused about the difference between compatible & OEM cartridges. Here in this post, we will shed light on the 'compatible Vs OEM cartridges' debate and answer questions such as:

What is the difference between compatible and OEM cartridges
How do compatible cartridges fare against OEM cartridges in terms of quality
Can you get the same page yield with a compatible and an OEM cartridge?
Will using a compatible cartridge affect your printer's warranty?
After reading this post, you will be able to make an informed decision the next time you need to buy replacement cartridges for your printer, whether it is an inkjet or a laser printer. You will not be aiming in the dark anymore.

First things first, let's start with the basics.
What Is An OEM Printer Cartridge?
Original Equipment Manufacturer (OEM) cartridges - also referred to as name-brand cartridges or original-brand cartridges - are manufactured, marketed, and sold by the printer manufacturer. These cartridges are known to be of high quality and reliable because they are specifically designed to work with certain printer models.

OEM inks and toners are believed to be expensive partly because printer manufacturing companies need to cover research & development (R&D) costs. Also, several entry-level inkjets and laser printers are also sold at very low prices. So, the standard argument you hear is that printer makers need to offset such costs by selling cartridges at a higher price.

But, this is not the complete truth. Printer manufacturers spend only a fraction of their total profits on R&D. And if you buy an inkjet printer for less than $100, does it feel right when you are asked to pay more than the price of the device for the first set of replacement cartridges? No, it doesn't.

Printer manufactures sell OEM inks/toners at a premium because it helps them maintain a healthy, non-stop revenue stream. So, is there a way out? Is there a cost-effective alternative to expensive OEM inks and toners? Well, unless you have purchased a printer that has been launched just days ago, there's a very good chance that you can find cheaper, compatible cartridges for just about any printer model on the web these days.
What Is A Compatible Printer Cartridge?
Just like an OEM printer cartridge, a compatible inkjet or toner cartridge is also a brand new cartridge. But, it is not manufactured by your printer manufacturer but a third-party cartridge manufacturing company.

Compatible printer cartridges, unlike refurbished cartridges, have not been used earlier. Such cartridges are engineered to work with different printer models, just like their OEM counterparts. In fact, reputed sellers of compatible inks and toners follow the same OEM specifications that are published by the printer manufacturer.

So, a compatible ink or toner cartridge and its OEM counterparty may not be completely identical in appearance but the former is designed to fit perfectly in your printing device.

Compatible cartridge manufacturers do not have to worry about R&D costs or burgeoning operating costs. So, they are able to pass on the savings to you. This is precisely the reason why compatible inks and toners are cheaper than OEM cartridges.
Compatible Vs OEM Cartridges: Are Compatible Cartridges As Reliable As OEM Cartridges?
Yes. You can expect compatible ink/toner cartridges to be as reliable as their OEM counterparts.

However, you need to make sure that you always buy compatible cartridges from a trusted seller. One of the best ways to identify such a seller is to check whether they have a satisfactory product return policy. Cartridges sold by a reputable seller will also be backed by a guarantee.

At InkjetsClub, this is exactly what we offer to all our customers. We are industry-accredited and manufacture compatible printer ink and toner cartridges in our ISO-certified facilities. So, you can expect the highest possible quality of ink and toner when you shop with us. Currently, we have affordable ink and toner cartridges for 100s of printer models sold by HP, Epson, Brother, and other major brands.
Compatible Vs OEM Cartridges: Page Yield & Print Quality
When it comes to page yield & print quality, you can expect compatible ink and toner cartridges to perform at par with OEM cartridges.

Inks and toners available at InkjetsClub will always print the quoted page yield.

Each one of our cartridges goes through an intensive quality test to ensure our customers receive a world-class product, every time. All cartridges are filled with ink or toner as per the OEM specifications so that you get the same page yield.

As it is with any product, including OEM cartridges, there is a miniscule chance that one out of 1000s of cartridges may turn out to be defective. But, when you shop with InkjetsClub, you need not worry about such a bad stroke of luck. We will happily exchange such a cartridge with another one for free.
Compatible Vs OEM Cartridges: Warranty
Many people ask whether a compatible cartridge will void the printer's warranty. They have a reason to be afraid because all major printer manufacturing companies leave no stone unturned to discourage consumers from using third-party, compatible printer ink and toner cartridges.

But, think for a moment. Why would these companies want consumers to even consider sourcing printer cartridges or other consumables such as print heads, drums, etc. from a third party company? Why would they say goodbye to the huge profits they make by selling printer consumables to millions of their customers month after month? They don't want you to get cheap ink so easily!

Put simply, they want consumers to be really scared of even considering such cost-effective alternatives. This is why nearly all printer makers often warn consumers that non-branded cartridges (compatible and remanufactured cartridges) can damage the printer. Note that these companies do not explicitly state that using third-party, compatible cartridges instead of OEM cartridges would void the device warranty.

Poor quality cartridges CAN indeed damage your printer. When this happens, the manufacturer can refuse to bear the cost of repairs.

But, when you are sourcing compatible printer cartridges from a trusted seller like InkjetsClub, you have no reasons to be afraid.

This is why it's important to always source compatible inkjet and toner cartridges for HP, Dell, Canon, Brother and Epson printers from reputable companies that follow OEM specifications and have ISO-certified manufacturing facilities.

You can learn more about this topic in our blog post: do compatible inks void your printer's warranty?
Final Words
Millions of people around the world are using compatible printer cartridges to keep printing costs under control. You can also do the same.

If you are spending $1000 per year on printer inks and toners, you can easily save at least around $300 simply by switching to compatible ink and toner cartridges.

We are confident of the quality of compatible ink and toner cartridges we offer as well as the price they are offered at. This is why we offer a price-match guarantee.