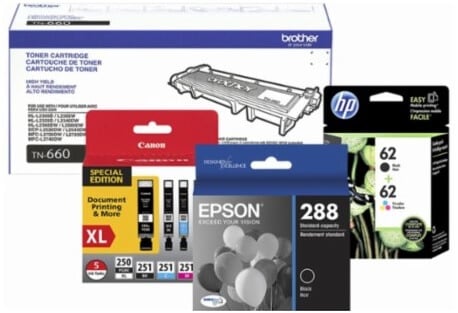 Things to remember when buying your next set of printer ink and toner cartridges
It's no secret, printer cartridge replacements can be one of the most expensive parts of owning a printer. Many retail stores will only carry cartridges provided by the manufacturer which end up costing just as much as the price of the printer, leaving customers with a pricey printing bill every time they need to replace their ink. Not surprisingly, this business model is nothing new - but we have a solution for you.
InkJetsClub has sold many new compatible and remanufactured ink and toner cartridges for eighteen years and we still have customers regularly asking us they would never go back to the OEM manufacture brand simply because of the price.
It's clear, our affordable cost and high-quality product makes us an enticing alternative for anyone who owns a printer, but what are you getting for that value?

Here, we have provided you with all of the most common questions, including:


What are the differences between store name brand, ink, and toners which are remanufactured and those which are marked as compatible printer cartridges?
Are companies who sell remanufactured and compatible cartridges selling a reliable product as the name brand ones?
Why are remanufactured and compatible cartridges so cheap?
If I use a remanufactured or compatible cartridge, will I get the same page yield and quality as the OEM cartridge?
Do remanufactured and compatible printer cartridges come with the same warranty as an OEM cartridge?
Do remanufactured and compatible cartridges allow you to see the ink or toner levels?
Purchasing ink for your printer can be challenging and expensive especially when shopping at major retail store brands or online discount ink cartridges websites. When your printer is ready for ink, there is a wide variety of products to choose from which include laser toners, inkjet cartridges, original equipment manufacturer (OEM) and remanufactured ink cartridges.
So how do you know which one to choose and if it's even the right fit to work with your printer? In today's marketplace, consumers have 3 different ink cartridge options for their printers. The 3 types of cartridges are OEM 'original equipment manufacturer', remanufactured OEM cartridge, and new compatible ink and toner cartridges. When you buy a new printer, it contains a cartridge that is made by the same printer manufacturer. A brand new printer contains a cartridge called an 'original equipment manufacturer product' or short for "OEM".

What are OEM Ink Cartridges?
OEM or also known as name brand cartridges are made by your printer manufacturer and are found in the printer when it is purchased new. OEM cartridges can be quite a bit more expensive for a couple of reasons than aftermarket cartridges due to the research, development costs that go into their production yet OEM printer companies can charge virtually anything they would like for their ink cartridges as they claim it is recommended' for their equipment and it's sold in retail stores worldwide. These tactics by different industries were realized long ago, with one of the more common ones being the razor industry. Razor manufacturers sell the shaver handles for a very low price, then charge inflated prices for their razor blades. The same is true of printer ink and toners – many times the OEM ink or toner is just as expensive than the printer you need ink for!
For example, a new Canon Pixma printer can cost from $50- $100 depending on the sub-model, while a complete ink jet set for this printer is the Canon 250 251 ink cartridges and the manufacturer will sell it for $75.00.
An Epson workforce printer will cost around $100-$200 for the printer unit itself, yet the new OEM inkjet set will cost $70.00 for the complete set of Epson 252 Cartridges.
You can buy a high-quality printer which is fair in the price, but you could end up paying just as much just to get the cartridges you need after the first set needs to be replaced.

Pros of OEM ink cartridges:
OEM cartridges are known to be reliable
Must major retail stores carry them in stock
Cons of OEM ink cartridges:
They are overpriced and cost sometimes just as much as the printer
XL versions are not readily available for the OEM cartridges
They do not yield longer than compatible or remanufactured inkjet cartridges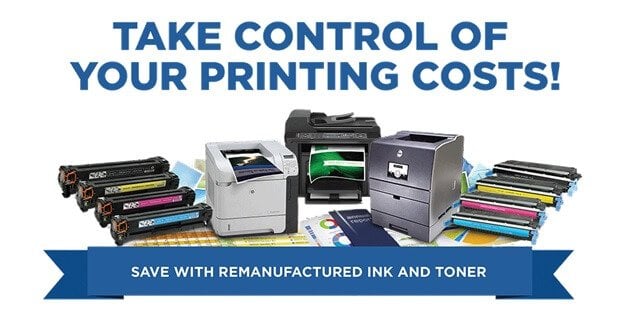 What are Remanufactured Inkjet Cartridges?
Remanufactured ink cartridges start from an OEM cartridge and when used up, it is recycled in a way that is filled, tested and ready to be used once again. A remanufactured replacement ink cartridge is essentially a recycled OEM cartridge that's been cleaned, refilled with ink or toner, and inspected for quality by the company responsible for recycling the the cartridges. OEM manufacturers do not provide remanufactured ink cartridges. So why are remanufactured ink cartridges a growing trend among consumers?
Remanufactured ink cartridges make a lot of sense as they meet many consumers expectations giving them the peace of mind and the 'OEM performance', yield quantity and pose a fraction of the cost as new cartridges. At InkJetsClub.com, it is reported remanufactured ink cartridges cost upwards of 70% less than their new counterpart, but essentially offer the same outcome.
Advocates of remanufactured ink and toner cartridge products assert that remanufactured ink cartridges are less expensive and better for the environment. Switching to remanufactured cartridges can result in a cost savings upwards of 70% ( InkJetsClub.com).

Remanufactured ink cartridges cost a fraction less because merchants who are performing the remanufacturing process are
Able to set their own prices as opposed to having to adhere to the prices established by companies such as HP, Epson, Brother, and Lexmark
Acquire the recycled cartridge from consumers who donate their empty cartridges to recycling centers and ends up at remanufactured warehouses at a fraction of the cost.
Remanufactured cartridges also are filled to capacity while the cartridges that come from the manufacturer oftentimes are not. For consumers who are concerned about the environment, remanufactured ink cartridges preserve our natural resources while keeping unnecessary metals and plastics out of the landfills. For consumers who want the genuine brand that came with their printer originally, but do not want to spend on OEM prices remanufactured ink cartridges make the most sense.
All sounds great with remanufactured ink and toner cartridges, but did you know not all remanufactured inkjets and toners are the same quality?
Be careful when buying from any online remanufactured ink and toner dealer. Make sure the remanufactured ink being offered is coming from a reputable provides a money back guarantee on all its products which are supposed to meet OEM specifications. Some companies may not test the remanufactured cartridge or provide all the ink possible.
Here at InkJetsClub.com, we never cut corners or take the easy way out when it comes to remanufactured ink and toner cartridges. Our remanufactured ink and toner replacement cartridges are inspected for faults at every single stage of the remanufacturing process and always comes with a money back guarantee or free product replacement. Every single cartridge we acquire is from a recycled facility that passes our initial inspection, which is then put through a rigorous factory cleaning and drying process to remove any residual ink/toner as well as any dust or dirt particles that may have accumulated along the line of its cycle life. Next, we refit each cartridge with brand-new components, which may include a new smart chip to set ink levels, a new sponge in ink cartridges, or a new drum unit and wiper blade in toner cartridges. Lastly, our remanufactured ink and toner specialist refill each cartridge with premium ink or toner to the OEM factory recommended fill level, or even more which is why you're able to get OEM page yields from a remanufactured product. Or sometimes more!
At InkJetsClub.com, our ink and toner specialist perform the same post-print tests that OEM cartridges go through. All these required steps allow us to always know you're getting a quality product that performs just as well as an OEM cartridge.

Pros of Remanufactured Cartridges:
Remanufactured inkjets and toners cost upwards of 70% less than OEM cartridges
Remanufactured inkjets and toners are considered OEM cartridges
Remanufactured ink and toner cartridges are good for the environment
Remanufactured ink and toner are filled to capacity, some offering more ink than the OEM cartridges which are not Cons of Remanufactured Cartridges:
Not all remanufactured ink and toner cartridges are the same. (InkJetsClub guarantees its remanufactured ink and toners while some companies do not).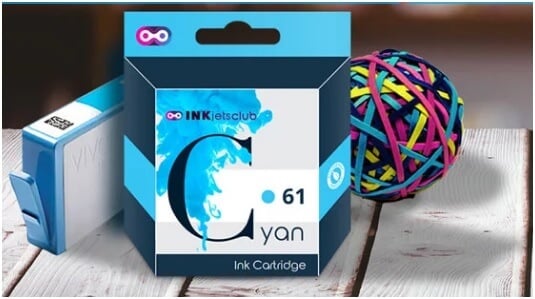 What are Compatible Inkjet Cartridges?
Compatible replacement ink and toner cartridges go head to head with the OEM cartridges as compatible inkjet and toners are newly built cartridges from scratch to fit into your printer just like the OEM version. A good solid brand of compatible cartridges will provide the same performance and quality as an OEM product or a remanufactured product, yet the development process of manufacturing these units is a slightly different process.
Think of compatible ink and toner cartridges as the generic cereal at the supermarket: it looks, smells, and tastes just like the brand-name cereal, but it's made by a different manufacturer and sold in different packaging. Other than that, they're essentially indistinguishable. The ingredients of the two are the same or nearly the same. Here at InkJetsClub.com, all our compatible inkjets and toner cartridges use brand-new components and are manufactured to meet all OEM specifications. To create this high-quality and low-cost cartridge, each cartridge goes through an in-depth vetting process, including quality inspections and post-manufacturing print tests. Our batches of compatible inkjet and toner cartridges are guaranteed t work as an OEM cartridge is designed to.
So now you're probably wondering why are some ink and toner cartridges on InkJetsClub.com remanufactured and others are compatible? It all has to do with licensing & the readily supplies of the recycled cartridges. First, some OEM brands cartridges have patents on their cartridges which prevent third-party manufacturers like InkJetsClub.com from making compatible (generic) versions of for their printer. We provide our customers with compatible cartridges whenever we're able to do so. If a patent from the manufacturer does not permit our brand to sell you a compatible version of the OEM cartridge, we then instead sell our OEM remanufactured ink or toner cartridge for the model you are looking for.

Pros of Compatible Cartridges:
Compatible ink and toners cartridges are more cost-efficient than OEM ink and toner cartridges
Compatible ink and toners cost upwards of 70% less than their new OEM counterpart
Compatible ink and toner cartridges provide the same page yield and offer the performance as OEM cartridges Cons of Remanufactured Cartridges:
Not all printer ink and toners come in a compatible/generic versions due to patents placed by manufactures ( we have listed remanufacturing cartridges as an alternative around this measure)
Not all compatible ink and toners are the same. As these cartridges are built from the ground up, a proper manufacture will build to meet OEM specifications. Some online retailers will not build to OEM specifications.
Why purchase from Your Next Ink and Toner Cartridge from InkJetsclub:
Here at InkJetsClub.com, your satisfaction is our number one priority. Our ink and toner store provides products which give customers the peace of mind and a great shopping experience. All our products are shipped directly to your door and we are here 7 days a week to assist you in making your purchase.

When purchasing from InkJetsClub, you will experience:
All our manufacture ink and toner cartridges are always in stock and provided in either the remanufactured or compatible format.
2 Years Shelf Life and Limited Warranty on any defects
Free product replacement on any defective products
7 days a week free product support specialist
Free shipping on most major purchases over $30
A price match guarantee*