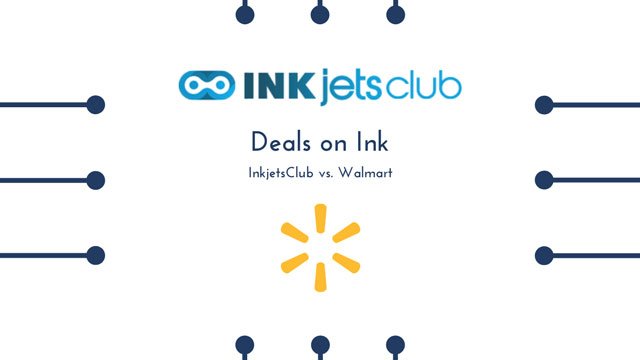 Have you noticed the signs that inkjet cartridges of your HP printer are running out of ink? Do you require a pack of HP 902 ink cartridges? Regardless of whether you require all four (black, cyan, yellow, and magenta) HP 902 inks or just one of them, you have multiple options for sourcing ink cartridge replacements, including the following:
Are both of these options the same? Well, no.
HP 902 at Walmart Vs InkjetsClub
Many people are confused whether they should buy HP 902 cartridges at Walmart or a reputable online seller like InkjetsClub.

If you are someone who needs ink cartridges urgently and a Walmart store happens to be in the close proximity, by all means, you can purchase cartridges for your OfficeJet there.

But, if you can wait for a few days, it's a good idea to source HP 902XL cartridges from InkjetsClub because Walmart only sells OEM (original equipment manufacturer) ink cartridges. Therefore, all cartridges sold by Walmart are expensive. But, when you buy cartridges for your HP printer from InkjetsClub, you can easily save up to 30% on your ink cartridge purchase.

In case you are a first-time printer user, we suggest you learn about the difference between OEM and compatible printer cartridges right away.

Millions of people worldwide are now using compatible printer ink cartridges instead of their OEM counterparts to cut down on printing costs. Over a period of time, you can save thousands of dollars simply by switching to compatible ink cartridges.
Which Printers Use HP 902 Ink Cartridges?
HP 902 ink cartridges are uniquely designed to work with several HP OfficeJet series printers. Here is the complete list of HP OfficeJet series printers that use either HP 902 or HP 902XL ink cartridges –
HP 902 Vs HP 902XL – Which One Should You Buy?
Frankly, it's advisable to invest in a high-yield (XL) ink cartridge when such an alternative is available. High-yield printer ink cartridges provide more yield at relatively less cost.

When you buy HP 902XL instead of HP902, you will be saving around 5% on cartridge purchases.

If you place a bulk order, you can further avail of a discount.

Compatible ink cartridges available at InkjetsClub have a shelf life of around three years. Therefore, you can stock up on HP 902 ink cartridges at once.

Just remember to keep all spare inks in tightly sealed packaging. You can read our blog post on how to care for your ink cartridges.

These are some smart ways to cut down on printing costs without compromising on the print quality or the number of pages you print each month.
Do You Always Need to Buy the Entire Pack of HP 902 Cartridges?
No.

At InkjetsClub, we give our customers the option of ordering either the entire pack of HP 902 inks or individual color cartridges.

So, here are the options that we have for HP OfficeJet series printer users:
We use the highest-quality ink in all compatible ink cartridges that are engineered to work with different types of printers.

If you are tired of spending too much on OEM HP ink cartridges, it's time you switch to compatible inks. Our HP 902XL ink cartridges for OfficeJet printers are certified in both ISO 9001 & ISO 14001 standards. Thus, you have no reasons to worry about a low quality ink cartridge that may run out of ink too soon or simply fail to perform.