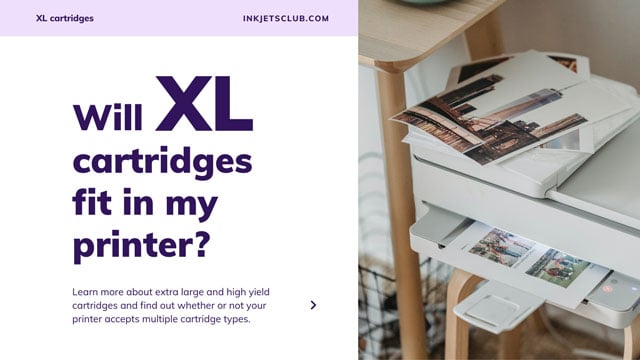 Do you want to buy XL ink cartridges to save on printing costs and avoid the hassle of having to purchase cartridges too often? Are you wondering if an XL ink cartridge will fit in your printer? Here in this post, we will answer all such questions related to XL ink cartridges.

First things first, let's start with the basic facts concerning XL ink cartridges.
What Is An XL Ink Cartridge?
An XL ink cartridge is a high-yield printer cartridge that can print more pages than a standard cartridge. It has a higher page-yield.

Page-yield is the standard metric based on ISO/IEC standards; it is used to estimate the total number of pages that a printer cartridge can print. Nearly all ink and toner cartridges have page-yield or duty cycle based on the number of pages (with 5% coverage) it can print.

People generally buy XL ink cartridges because they are more economical. You can save around 5% on printing costs simply by switching to high-yield cartridges. Also, you no longer need to replace printer cartridges too frequently.
Will XL Ink Cartridges Only Work With Larger Printers?
Many printer users are confused whether XL printer cartridges are meant only for larger printers.

Well, they aren't.

Printer ink cartridges are designed to work with specific printer models. For instance, HP 920 ink cartridges are designed to work with various HP OfficeJet series models including 6000, 6500, 65000A, 6500A Plus, 7000, 7500A, and Pro 6500.

So, you can either use standard HP 920 cartridges or HP 920XL cartridges. The two are interchangeable.

Many printer manufacturers ship printers with standard-yield cartridges. This is the reason why many consumers are confused whether they should buy exactly the same set of replacement cartridges or opt for high-capacity alternatives.
Will XL Cartridges Fit In Your Printer?
Many people wonder if the process for installing a standard and an XL ink cartridge is the same or if XL ink cartridges will fit in their printer.

Well, in most cases, an XL cartridge just holds more ink. It is not larger in size in comparison to a standard cartridge.

So, you can install an XL printer ink cartridge the same way you insert the standard cartridge into the designated slot. No additional adjustments are required.

In some rare cases, an XL printer ink cartridge may be slightly larger in size. But, it will still fit in the same slot as the standard variant.

Just be careful not to apply too much force. Gently push the ink cartridge into its slot. In some printers, you may need to press a button or pull a small lever before you insert the cartridge.
Are All Printers Compatible With XL Printer Cartridges?
Most printers available these days are compatible with both standard and compatible printer cartridges. Printers designed for heavy-duty printing are also compatible with extra high yield printer cartridges.

Nowadays, there are printers available (e.g. Epson EcoTank series printers) that use large ink tanks instead of conventional ink cartridges. Over the last few years, all major printer manufacturing companies have launched printers that use ink tanks. In this case, you can print thousands of pages with just one set of cartridges.

As a general rule, if there is an XL cartridge available, you can safely assume that your printer is compatible with it. Just make sure you have the right cartridge number.

The cartridge number is printed on the front or top of the sticker on the ink cartridge carrier. The label or sticker also indicates the color of the cartridge.

The ink cartridge number can also be found in the printer's manual. Alternatively, you can check the manufacturer's website for specific information related to printer cartridges.
How to Know If You Have a Standard or XL Cartridge?
The short answer - you can simply check if the label has an 'XL,' or 'XXL.'

The long answer – it depends on the printer manufacturer. There are no standard rules or conventions in place to name high-yield printer cartridges.

Take the case of HP ink cartridges.

HP 910 ink cartridge comes in 3 sizes:
Standard (Example – HP 910)
High Yield (Example – HP 910XL)
Extra High Yield (Example – HP 916XL)
HP toner cartridges, however, are named differently.
Standard (Example – HP 37A)
High Yield (Example – HP 37X)
Extra High Yield (Example – HP 37Y)
Canon and Epson inkjet cartridges follow the same convention as HP ink cartridges.

Canon ink cartridges are named as Canon PGI-280, Canon PGI-280XL, and Canon PGI-280XXL.

Canon laser cartridges, however, are named as:
Standard (Example - Canon 131)
High Yield (Example - Canon 131H)
In the case of Brother toner/laser cartridges, there are different names for different cartridge sizes.
How to Find the Correct High Yield Ink Cartridge for Your Printer?
You can also use InkjetsClub's 'Find your ink and toner' feature to find the right cartridge for your printer.

You just need to select the printer brand, series, and model number.

At InkjetsClub, you can find compatible ink cartridges for all popular printers manufactured by HP, Canon, Brother, Epson, and other leading brands. You can save up to 30% in printing costs by simply switching to compatible cartridges.

Our compatible ink cartridges are made in ISO-certified facilities, strictly as per the OEM specifications. We are confident of the quality of products we provide. This is why our compatible ink cartridges are backed by a guarantee.