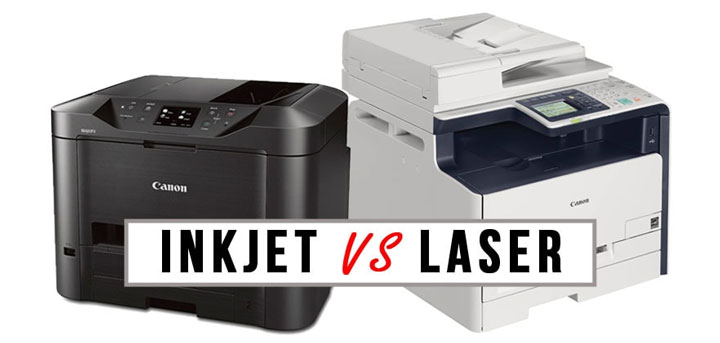 Should You Invest In A Inkjet Printer or Laser Printer?
How To Make The Right Selection For Your Specific Printing Needs
Having a printer on hand gives us the instant convenience of getting almost anything from your computer, permanently onto paper, without having to spend excess time going to the print service store. If you need to shop for a new printer, there are many selections on the market to choose from but which kind of printer will be a good fit for you and your specific needs? It really depends on how often you will use the printer, what types of things you need to print and how much cash you are willing to invest in your new printer. There are a few added features to consider when you're shopping for your new printer. If you will be needing to scan or copy, be sure to select a model that includes those features. They are usually called "all in one" printers. You will also want to think about the printing process, either inkjet or laser? Without enough information, it could get a little overwhelming when it comes time to compare options. The process of shopping for your new printer can be simplified by asking yourself a few important questions.
The most commonly used printers used in workspaces and households are either one of two categories; inkjet printers or laser printers. They both have their own set of pros and cons depending on the specific needs of what will be printed most often. Basically, the two types of printers do the same thing but differ in the printing mechanism used for getting your digital goods permanently onto paper. The two types of printers can look similar but in reality, they have quite a few differences and similarities that should be noted. So you might have some questions, hopefully, we can answer them as you continue reading.
What Cartridges Are Needed for Inkjet Printers or Laser Printers?
Laser printers use a powder based ink called toner, which is a completely different formula compared to inkjet printers. Toners consist of a fine pigmented powder. Inkjet printers use ink cartridges which consist of liquid mixed dyes.
Are Laser Printers Better Than Inkjet Printers?
Both types of printers have good attributes depending on what they will mostly be used for. Laser printers usually cost more because they are meant to print at higher volumes and speeds. Laser printers use toner, a bigger cartridge also seems more expensive upfront but lasts longer, and is more cost effective if you were to calculate the cost for every page printed. Toners won't need to be replaced as often as ink. You will commonly find a laser printer in offices or small businesses that need to print text-based documents. The drawback is that colored prints won't be as accurate or vibrant.
Inkjet printers are more affordable and better suited for home use especially if you want to be able to print high definition pictures. Ink cartridges are better for printing color because the dye in the ink allows more vibrant colors from a wider spectrum. The problem with ink is, ink cartridges can be quite costly, especially if you fall into the "OEM cartridge only" gimmick presented by the printer companies. We'll go into further detail about that later in the article.
What are the Benefits of an Inkjet Printer?
They take up less space, designed to be a more compact option perfect for a home office.
The upfront cost of an inkjet printer is more affordable than laser printers.
They are ready to be used right after powering on, laser printers need time to warm up.
You will have the ability to print high-quality pictures with vibrant colors on photo paper.
Different sizes and types of paper can be used to print on.
What are the Downsides of an Inkjet Printer?
They print slow compared to laser printers.
Buying original ink cartridges directly from the manufacturer is expensive if you print often.
Most models can only hold 100 sheets of paper at a time.
There is a limited lifespan on some lower priced inkjet printers that are designed for light use.
What are the Benefits of a Laser Printer?
You will get your prints at higher speeds and volume.
On the long run, it's more cost effective if you plan on printing only text-based documents.
Toner won't need to be replaced as often as ink.
What are the Downsides of a Laser Printer?
The initial cost of a high-end Laser printer is much more than inkjet printers.
Most laser printers are bigger and heavier than common inkjet printers.
Won't be able to print high-quality photos or detailed graphics.
Heat sensitive paper cannot be used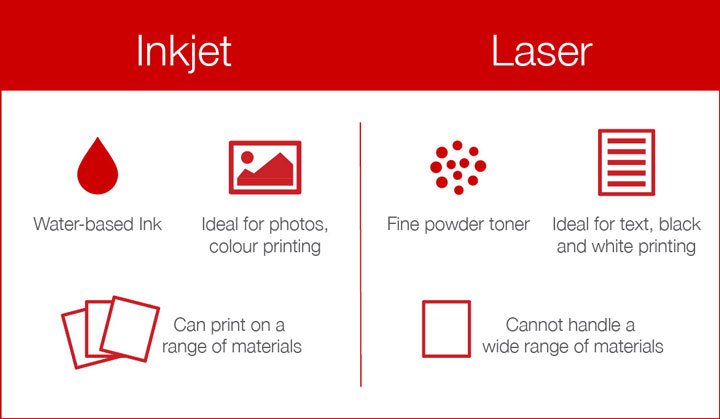 Which Printer Will Give me the Best Quality Prints?
Print quality can be great from either option but there are a few aspects to consider when making your choice between an inkjet or laser printer. Inkjet printers will be able to print more colors and high definition pictures but you need to wait a few seconds after printing to allow everything to dry and prevent smudges. Inkjet prints can fade over time. As opposed to printing with a laser printer, the toner is infused into the paper with heat and pressure so there is no risk for smudging or fading.
Overall, if you need a printer that can do it all; pictures, graphs, text, a high-quality inkjet printer would be a wise investment. The print quality on photo printing models can often be much better than a similarly priced laser printer. On the other hand, if you will only be printing word documents then a laser printer will serve you better with faster, more cost-effective prints.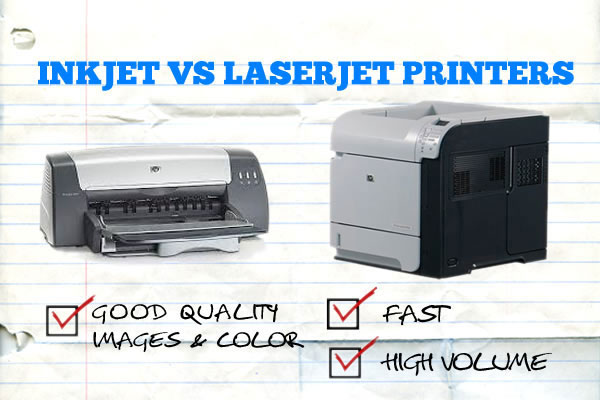 How Can I Save Money on Ink and Toner Cartridges?
If you've already done your research and chose a printer model that fits your needs and budget, the next thing you might be thinking about is where to buy new cartridges? Most printer manuals recommend buying OEM (original equipment manufacturer) cartridges, meaning that they are produced by the printer manufacturer who charges a hefty price. You could buy a $70 printer but later realize that replacing all the ink is going to cost upwards of $100. Some people would just buy a whole new printer since it comes with ink when you first purchase it. If that doesn't make sense to you, we have a solution. You can always buy your ink from an industry-leading2 online store such as InkJetsClub where they have the most affordable prices for buying OEM compatible, OEM remanufactured and remanufactured ink cartridges that meet OEM printer ink cartridge and toner standards. You don't need to empty your wallet to refill your ink or toner for your new printer. A smart shopper will take advantage of buying premium ink and toner cartridges that are sold worldwide with savings up to 75% off retail ink prices backed with a full warranty so that you never have to pay extra.