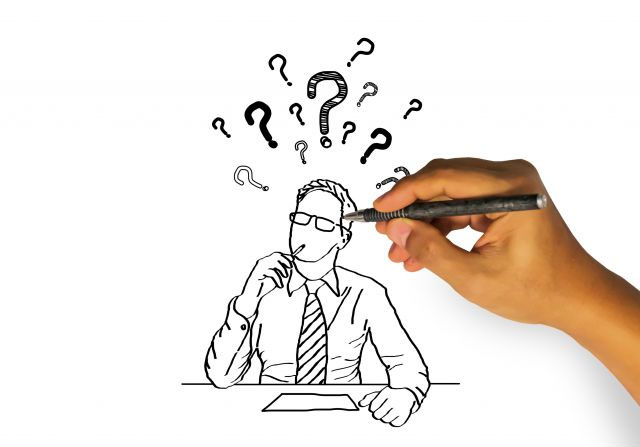 Find Today's Best inkjet Cartridges To Buy for Your Printer
Finding high-quality ink for your printer is a common practice for anyone who owns a printer and to whom the quality of printing is of extreme importance. The industry of ink cartridges is now filled with many ink brands and ink types, which leave the customer with a difficult choice on which brand to choose and who to buy their next set of ink from. Questions we typically hear from customers include "What company should I choose" or " Which ink cartridges should I use for my printer?" The wrong choice of inkjet cartridges may cause serious problems for your printer due to leaks or ink which may dry quickly against your printer heads. Most people nowadays might prefer buying Original Equipment Manufacturer's (OEM) products, in order to be sure they are using a trustworthy ink for their printers. Yet there are companies out there like InkjetsClub.com which remanufactures OEM inkjet cartridges to save consumers like yourself hundreds of dollars when it comes to buying original ink and toners. Even better, the remanufactured inkjet cartridges pose the same warranty as to the original cartridges which came with the printer and provide the same amount of yield count (print volume) as the OEM inkjet cartridge sold by the manufacturer of your printer. The only difference you see in buying the remanufactured inkjet cartridges from InkjetsClub is the price.

Here at InkjetsClub, we offer such ink cartridges which don't fall short of the OEM products. Whether or not you buy a remanufactured inkjet, toner or even compatible cartridges, InkjetsClub promises exceptional quality and prices which are affordable for anyone on a budget.

We are offering you ways that will help you to choose the best ink cartridges for your printer.
What to Consider When Buying Your Next Set of Ink Cartridges
First, you have to find which printer ink cartridge is compatible with your printer by checking the model of your printer and seeing which cartridge model your printer is supposed to use. Second, choosing from so many brands can be difficult. You, as a customer, are left with so many choices, but you are not really aware of which of the ink cartridges would go best in your printer.

There are several aspects that a customer must take into consideration while choosing an ink cartridge.
Check the compatibility of the ink cartridge with your printer model
The first, and yet one of the most important aspect, that you must consider before buying the ink, is checking the compatibility of the ink cartridges with the printer you use. Not all the printers accept cartridges with the same sizes. For instance, you may hear someone say, for example, the Brother LC103 ink cartridge worked perfectly in their Brother MFC-J475DW printer. After following their advice, you go online and buy Brother LC103 ink cartridges for your Canon PIXMA TS3170 printer. The result will be having your printer not accept the cartridges. If you buy Canon ink, it doesn't mean all Canon printers will work with it. A lot of attention needs to be paid to the compatibility of the printer and the inkjet cartridge; otherwise, you will face difficulties, concerning the warranty of your printer. Also, you will waste money on stuff that is not needed. If you want to get the best ink, you really need to be sure in the compatibility of your printer and the cartridges.

Search for you your printers ink cartridge or your actual model of the cartridge at the area shown below (found on the top of this website).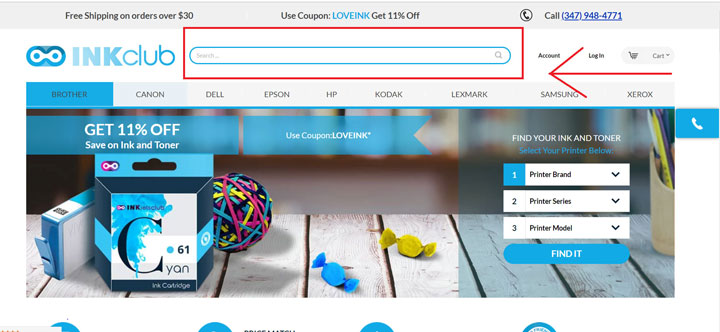 Know the size of the cartridge
Besides the compatibility, you have to look at the size of the cartridges you buy. If any kind of printing is more or less one thing that you constantly do, then you are aware that different sizes of inkjet cartridges exist. There are mostly three types of ink cartridges: standard yield, high yield, and extra high yield. Really, the difference between these three sizes is huge. The standard yield ink cartridges print fewer pages than the high yield and extra high yield cartridges. If you print occasionally then standard capacity ink cartridge will be the best choice for you. As for the high yield cartridges, they contain more ink than the standard capacity cartridges. If you print often, your workload is lot, then buying high yield cartridges will be the best option for you. It will be more cost-effective as well. And the extra high yield (XL) cartridges print the largest amount of pages and correspondingly, it's more expensive than the previous two. The extra high yield cartridges are meant to be used mainly in office works, or anywhere where a huge amount of printing is done daily. So, in order to get the best inkjet cartridges for your printer, you have to make sure what kind of cartridge you really need.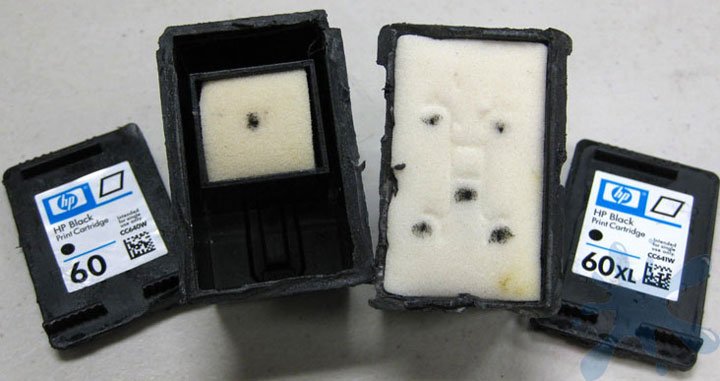 (As shown in the above example is an HP 60 Inkjet Cartridge for many HP printer models.)
Note the visible difference in how much more ink can be stored in an XL series cartridge versus a standard series inkjets cartridge. XL ink cartridge can have yield counts upwards of 3 times more prints than its standard size series model.
Check the reputation of the company offering the ink cartridge
What other customers are saying online is a must in today's online purchasing of any ink or toner cartridge. Reviews about products are a key decision for many before making a purchase. With the popularity of many online retail merchants like Amazon and retail store chains, consumers consistently check the feedback of other consumers prior to making a purchase of the product they seek interest in. This is no exception with the inkjet cartridge industry. Know the product well in advance by seeing what others see about the cartridge, the yield count and the life expectancy. Everything counts from customer service to the moment the cartridge arrives at your doorstep in a timely manner.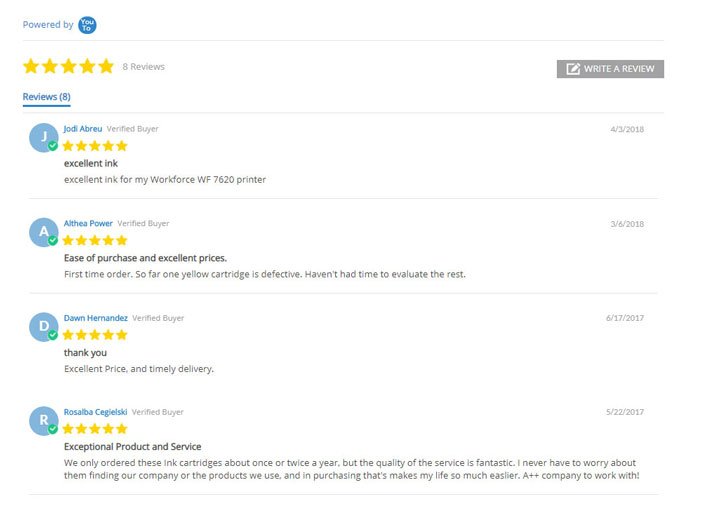 What to check before buying a remanufactured inkjet cartridge:
The Yield Count
The Company's Warranty & Guarantee
The Company's for their Inkjets and Toners
What We Recommend to Save Money on Ink Cartridges
Choosing remanufactured inkjet cartridges is one of the best options to save money yet get the OEM reliability and experience. That way you know you have chosen the cartridges that, in the first place, is right for your printer and in the second place buying those cartridges will prosper your integration into saving both money and the environment. So, why is buying remanufactured cartridges the best option for an inkjet cartridge?
First, they are way too cheaper than the original cartridges, it means buying those cartridges will bring you a lot of savings.
Secondly, you are intentionally becoming an eco-friendly customer; both you and the environment you live in are safe by then. Besides that, the remanufactured ink cartridges perform just as well, as the original ones. They will surely provide you with the same quality and the page yield. No need to pay extravagant money, in order to be able to produce high-quality prints.
The following are the most important things, you need to consider in order to get the best ink cartridges for your printer:
Check whether the inkjet cartridges, you are going to buy is compatible with your printer. Don't just randomly guess which one will go with your printer. You need to do some research (call the customer service of InkjetsClub-(347) 948-4771) to check the compatibility with your printer and the cartridges.
Make sure what size you need when buying inkjet cartridges online: the standard yield, the high yield or the extra high yield (XL). If you buy the wrong size, you might waste a lot of money on that.
Choose remanufactured inkjet cartridges, as they are the best ones in the marketplace. They will provide you with outstanding performance, and in addition to that, they are a very cost-effective solution for anyone looking to receive OEM cartridges.
Finding the best ink cartridge for your printer will be easy when you know where to start. Here, at InkjetsClub we offer the highest-quality remanufactured ink cartridges with affordable prices. Our experienced staff will gladly provide you with excellent customer service 7 days a week to answer all your questions and concerns before or after making a purchase at of InkjetsClub. We will help you find the correct ink cartridges for your printer and provide all necessary steps to ensure you are receiving the best possible experience. Don't go broke when buying an expensive OEM ink or toner cartridge. Instead in order to get premium-quality prints without breaking the bank search for your printer model or cartridge model in the search section and see what. InkjetsClub has to offer. All our ink and toner cartridge are guaranteed to deliver superior performance with your compatible printers as with any OEM inkjet or toner cartridge.

If you're looking for any ink or toner cartridge, no matter what size printer, how old or new the unit is, you need to shop at Inkjetsclub.com in order to save big on every inkjet or toner purchase for your home or office printer. Shop with confidence with our 1-year satisfaction guarantee and 7 days a week phone and email support.